The Wanderer
Biography
Born in Europe, living for more than 30 years in the US and working in US, Europe and Eastern Europe. Working in the IT industry for more than 25 years. Because of private circumstances I started to write a book. A book about traveling, working for Fortune 500 companies around the globe, meeting different cultures and most of all about life. In the book you find every aspect about what is happening in life, the good things and bad things, the success and failures. After 3 years, in 2012 I was finished writing and thought what now? and I came up with the idea to do something good with the book, meaning that the complete profit of the book would be used to set up a Foundation who would help young people with scholarships for business studies. I came finally in 2015 to the point that the website and social media are ready and that we can start selling the book and work on the Foundation.
Where to find The Wanderer online
Books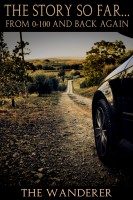 The Story So Far... From 0-100 and back again.
by

The Wanderer
The story so far…..From 0 to 100 and back again. A book about more than 25 years of travelling, doing business, meeting many different people and cultures and mostly about life, the good things and also the bad things. Dreams you have to let come true and you can only do this by climbing every great hill that's crossing your path.
The Wanderer's tag cloud