Ted Wisconsin
Biography
I was born and raised in Memphis, TN until age 21, when I went into the U.S. Air Force. After my 4 year enlistment I moved back to Memphis and got my B.S. in Aeronautics from Embry-Riddle Aeronautical University. I then moved to Tupelo, MS for 6 months, then moved to Lancaster, CA for work. I spent a year there, and moved back to Tupelo to be with my sick Grandfather. At age 31, I moved to Saudi Arabia to work with the Royal Saudi Air Force for a year, then moved back to Tupelo for work. Now, I live with my fiance just outside of Blytheville Arkansas.
Books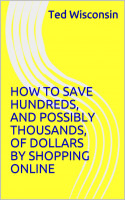 How to Save Hundreds, and Possibly Thousands, of Dollars by Shopping Online
by

Ted Wisconsin
If you want to save hundreds, or possibly thousands, when shopping, this is the ebook for you. In this guide I give you tips, knowledge, websites and more to help you stretch every dollar you spend. The money you spend on this book will be dwarfed by the amount you'll save.
Ted Wisconsin's tag cloud