Warren Brown
Biography
Warren Brown lives with his wife L. L. Brown in Tulsa, Oklahoma. He has published stories in Omni, The Best of Omni Fiction, The Magazine of Fantasy and Science Fiction, After Hours, Amazing Stories, Tomorrow, The Book of All Flesh (with L. L. Brown), The Best of All Flesh, scifidimensions.com and other venues. He has also published poetry in Nimrod and other little magazines. His stories, "What We Did That Night in the Ruins," "Mayfly Night," and "Sifting out The Hearts of Men" received honorable mentions in anthologies of the year's best science fiction and the year's best horror. The author is working on a second novel, Underland, based on "Mayfly Night."
Where to find Warren Brown online
Books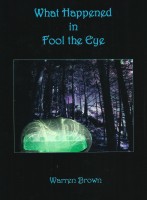 What Happened in Fool the Eye
by

Warren Brown
(5.00)
The war in Viet Nam is a looming shadow as young Andy Anderson contemplates his place in life. When he meets intelligent and captivating Reeseanne McAuley and her physicist father, they begin to suspect that the eccentric Hagar Bixly, self-proclaimed guardian of the nearby woods, is involved in a mystery from beyond Earth that could alter their lives forever.
Warren Brown's tag cloud