Skyler Patterson
Biography
Who is Skyler Patterson? Here is my impossible story. Yet it is indeed all truth. I am from New York City. My journey could be a book itself. I have worked in health care for forever. It was one day when taking the train to my job I grew tired of reading the newspaper. So I decided to read a book. I read books by J.R. Tolkien, Herman Mellvile, Bram Stoker,Ann Rice,and George RR Martin. I became addicted to reading all over again! It was when I had completed reading one series when I went to the clerk of a bookstore and asked when I could hope to read anything new from the author. The man stated That guy! HA! Good luck! Try 6 years! WHAT?! LIFE IS TOO SHORT! SO I began to ponder what if I YES ME could somehow come up with a tale of my own! And then the impossible happened I came up with an idea! That story would become The Book Of Swords. That idea took 5 minutes to conjure! That story gave me Writers Block. So I thought up another idea on the train platform. In 5 more minutes I thought up a tale which would become my greatest creation : T H E LAST KRAKEN! A tale of a giant leviathan squid running amok in the 1800s. I then began the task of writing it. I have had no formal training, and I had succeed in dropping out of college years ago DO NOT DO THIS! It did not go well! I will not lie I made every type of mistake that one could make in learning how to write an ebook. Yet somehow I completed this first book.Next I brought it to my extra smart school teacher sister. She gave me the most positive encouragement: LET'S HAVE A GOOD LAUGH! So I read her a chapter over dinner. The entire room fell to silence when I read it. Then stuttering and clapping ensued along with: H OW IN THE HELL!! And so I wrote many more books.It was in 2013 when I was writing my first Paranormal Romance book REVENGE OF THE WOLF , I knew I was on to something. I was with a woman I was dating. I passed her the laptop to read an emotional turning point of the story. My jaw dropped! I was in awe as tears began to spill down her face. And so I shall endeavor to WRITE MORE BOOKS!
Books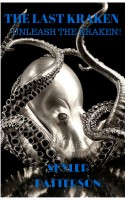 The Last Kraken
by

Skyler Patterson
Price:
$2.99 USD.
Words: 53,880.
Language: English.
Published: December 2, 2015
. Categories:
Fiction
»
Fantasy
»
Epic
This is an Epic deep sea adventure. Its 1800s England. A giant leviathan Kraken is running amok! The hunt for the Last Kraken begins!
Skyler Patterson's tag cloud