Wayne Salmi
Biography
Wayne Salmi was born in New York City to hard-working parents just as the Great Depression ended. After joining the Army, he married and moved to California. Apart from his time in the service, he had a job from the time he was twelve years old delivering papers until he retired. Additionally, he owned three businesses in his "spare" time. In his twenties, he learned to fly, a major reason for this book, his first attempt at writing. During the creation of this work, he found that he ended up teaching himself how to write. Today he lives in southern California with his wife and their dog. He is a science fiction and military history junkie.
Books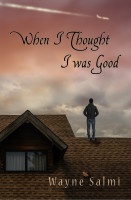 When I Thought I Was Good
by

Wayne Salmi
The thought of flying consumed the young Scott, propelling him from a timid youngster to the man he became. Now as he looks back on the life he has led… fulfilling his dreams of being an airline pilot instead of choosing a more stable life with children… he is left with one of life's most basic yet complex question – What if?
Wayne Salmi's tag cloud