Wallace Caminsky
Biography
WALLACE CAMINSKY was born in 1922, the first-born son of immigrant parents. After struggling through the Depression and World War II, where he served in the South Pacific, he finished college in 1947, graduating with a degree in English from Wayne State University, and was married the following year, soon to start a family of his own. Working for one of the Big Three automotive companies in Detroit, he wrote intermittently for the next twenty years, before embarking on a second career as a lawyer. He went to law school in the 1960s, and became an administrative law judge in 1975, serving in that position until his retirement in 1987. Always a voracious reader, his tastes in literature range from the short stories of James Joyce and P.G. Wodehouse to the novels of Charles Dickens, and the epic classics of Tolstoy...as well as the comedy of Monty Python.
Books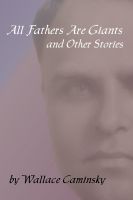 All Fathers Are Giants and Other Stories
by

Wallace Caminsky
Heartwarming and sad, life is filled with laughter and tears. But for the children everywhere, the painful transition to adulthood is a universal constant. In All Fathers Are Giants, Wallace Caminsky's collection of short stories and poems brings to life a bygone age now largely lost to suburban sprawl and computer games.
Wallace Caminsky's tag cloud