Marie Boyd
Biography
About the Author—Marie Boyd

A fourth-generation Philadelphian of African ascent and life-long avid writer, Marie Boyd and her husband live in Woodstock, New York. Living as they do on an edge of the small Catskill Mountain community, nestled amid pines, slate, hawks, deer, and black bears, Boyd draws great inspiration from the environment. A Visitor from Ether is her first published work.

Boyd's passion for writing seems to open her mind to the minds of others—who whisper their stories and secrets to her. "I don't know about other writers," Boyd says, "but when mystifying, yet astute voices speak from within, I listen and try to learn from their wisdom." In A Visitor from Ether, Boyd's character takes dictation dutifully, and those recorded notes portray unique tales of bold action, inspiration, and quiet wisdom.

In time, readers will discover that Boyd's subject matter varies significantly, drawing upon the rich history of her home city, the independence and intellectuality of her family, and her own creativity. Marie is writing what will become the second book under the Earthly Tales and Other Adventures banner, which she says will take readers to another place and time.
Books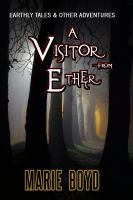 Earthly Tales & Other Adventures - A Visitor from Ether
by

Marie Boyd
As Natalie cleans her bathroom sink, a mysterious Voice speaks to her in such insistent tones that she must rush to her computer and take dictation. The stories that emerge carry us back to pre-Civil War days and provide compelling glimpses into the life and adventures of a woman, born slave, who loved Freedom above all else: the perils of her quest, lessons learned, and timeless she wisdom gained
Marie Boyd's tag cloud