Wylanda E. Harris
Biography
Wylanda E. Harris writes haiku poetry that explores the relationship between the natural world and humanity. She shares her haiku so others can experience the same beauty and insight which inspires her to write poems. She has a degree in history, is an avid reader, and frequently visits parks and gardens which provide her with ideas for her poetry. For everyone she wishes peace, prosperity and the realization of every dream.
Where to find Wylanda E. Harris online
Books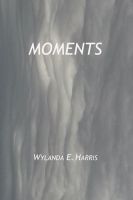 Moments
Life is a series of moments. Many may be ordinary and unmemorable. Some cause us to see the world and others in a different light. Wylanda E. Harris has captured some of these special moments in this collection of haiku poetry which shares her thoughts about the beauty and mystery of the natural world and human nature.
Wylanda E. Harris's tag cloud