Western Fictioneers
Biography
Western Fictioneers is a professional organization for authors who work in the genre of the traditional western. Our goal is to promote the kinds of stories we love to write (and read); the western is the Great American Story, our unique history and mythology, and it remains as relevant as it ever was.
Where to find Western Fictioneers online
Books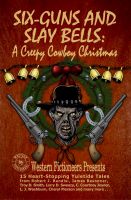 Six-guns and Slay Bells: A Creepy Cowboy Christmas
by

Western Fictioneers
The Western Fictioneers, the world's only organization of professional authors devoted solely to Western fiction, presents 15 original Western horror stories just in time for the holidays. Featuring stories by some of today's top writers in the Western field make SIX-GUNS AND SLAY BELLS the most unusual Western Christmas anthology ever published.
Western Fictioneers' tag cloud