Wesley Fryer
Dr. Wesley Fryer is a grade 4-5 classroom STEM teacher, digital learning consultant, author, digital storyteller, educator and change agent. With respect to school change, he describes himself as a "catalyst for creative engagement and collaborative learning." He earned his Ph.D. in Curriculum and Instruction from Texas Tech University in 2011. He is the author of two books, "Mapping Media to the Common Core: Vol I." (2013) and "Playing with Media: simple ideas for powerful sharing" (2011). He has taught technology integration courses for pre-service teachers as an adjunct instructor at the University of Montana, the University of Central Oklahoma, the University of North Texas, and Wayland Baptist University. Fryer has served as an organizer for the annual K-12 Online Conference since it began in 2006. His blog, "Moving at the Speed of Creativity" (www.speedofcreativity.org) was selected as the 2006 "Best Learning Theory Blog" by eSchoolnews and Discovery Education, and is utilized regularly by thousands of educators worldwide. He leads 3 day iPad Media Camps and facilitates multi-day Scratch Camps for students helping them learn how to create games, make animations, and tell stories with free Scratch software from MIT. Dr. Fryer is the executive director of the nonprofit Story Chasers Inc. He is a passionate advocate for digital oral history and works to empower people to archive the stories of their families and community. Wesley Fryer became a Google Certified Teacher in 2009, was named an Apple Distinguished Educator in 2005, is a 1992 graduate of the US Air Force Academy, and a Fulbright Scholar. He is an active member of the education committee of the Oklahoma Creativity Project. His professional experience includes service as an elementary classroom teacher, campus technology integration specialist, college director of distance learning, state director for education advocacy for AT&T, and director of technology for a state historical association. He lives in Oklahoma City where he works with school teachers, librarians, and administrators interested in effectively integrating technology into classroom instruction with a focus on student-created multimedia and digital portfolios. More information (including a booking inquiry form) for his keynote, breakout session, workshop offerings, and videoconferences are available on his "Speaking" page. Recent and upcoming presentation handouts / resources are available on wiki.wesfryer.com.
Why Playing with Media and Mapping Media Matters
This 6.5 minute video by Dr. Wesley Fryer explores six different questions relating to technology integration and multimedia communication for students and teachers: 1- Why is playing with media and mapping media important? 2- What is mapping media? 3- Why are words important? 4- Digital Portfolios: Why and How? 5- What excites you about learning today? 6- How can educators use the Mapping Media framework?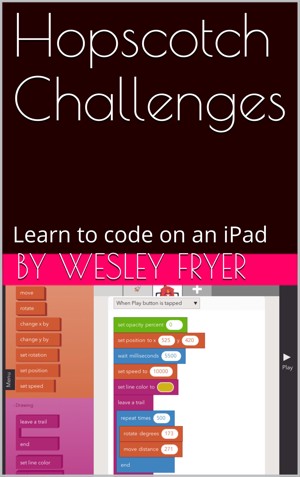 Hopscotch Challenges: Learn to Code on an iPad!
by

Wesley Fryer
This is an eBook of challenges for students to complete using the free iPad app, Hopscotch. Hopscotch can be used to introduce students to basic concepts of software coding and computational thinking, since it uses a "block based" programming language similar to "Scratch software from MIT. (scratch.mit.edu)