Betty O. McAleer
Biography
Ingrid O. Duva and Betty O. McAleer are the coauthors of White Powder Fences. Their realistic fictional story resonates with a large community of culturally diverse immigrants who battle to adjust not only to a new geographical location but also to a set of social rules that may differ and at times conflict with his or her upbringing and mindset. In this coming of age story the authors pay tribute to two cultures through the experiences of the protagonist, Josefina.

Ingrid O. Duva is also an expert English-Spanish translator and interpreter. You can find her on Facebook and Twitter.

Betty O. McAleer is also a lover of history, a wife, and a mother of two. You can find her on Facebook and Twitter.
Books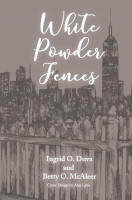 White Powder Fences
by

Ingrid O. Duva

&

Betty O. McAleer
A story about an immigrant girl's life journey, entailing the progression of complex relationships as she shares emotionally filled anecdotes, allowing the reader into the immigrant experience in the U.S. She dives into details of her relationship with a neighborhood boy and shares events which change her family and her belief system. This tale contains cultural diversity, politics and history.
Betty O. McAleer's tag cloud