Michael Pickup, CPA,CA
Biography
About the Author:
Mr. Pickup is a Chartered Professional Accountant (CPA,CA) by profession and is currently serving a ten-year terms as Auditor General of Nova Scotia. He has taught at both Carleton University and the University of Ottawa. During twenty-nine years of public service he has been promoting better government through audit. Mr. Pickup has also been sharing his knowledge in Africa and Asia in recent years. He was born and raised on Cape Breton Island, the second child to a teen-aged mother. He overcame early child-hood poverty and incredibly simple beginnings, to become well educated and a successful professional. Mr. Pickup credits many for helping him and recognizes Nan Pickup as having the most influence on his development. Clearly Nan knew what she was doing taking on this project and upward mobility is alive and well in Canada.
Books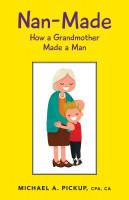 Nan-Made: How a Grandmother Made a Man
by

Michael Pickup, CPA,CA
NAN PICKUP TEACHES AND ENTERTAINS IN THIS TWENTY-FIVE LIFE LESSON GUIDE. The Do-It-Yourself Suggestions at the end of each short story are inspiring. The stories span the fifty years as told by her first born grand-child. These twenty-five tips could help you influence your own children or grand-children and yourself.
Michael Pickup, CPA,CA's tag cloud