W Huizinga
Biography
Reverend W Huizinga (b. 25 January 1946) is minister-emeritus of the Free Reformed Church of Armadale, Western Australia. He previously served as minister of the Word in London and Watford Canada (1971-1976), Hamilton, Canada (1976-1986), and Armadale, Western Australia (1986-2011).
He is also the author of the pre-profession of faith course The Way.
Books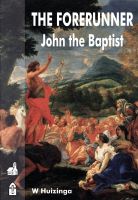 The Forerunner - John the Baptist
The ministry of John the Baptist remains very relevant for our day and age. The forerunner had to prepare the people for the coming of the Messiah. He had much work to do, since the people had wandered far from the ways of the Lord. His ministry still reforms the life of the church and brings true reformation in all areas of life.
W Huizinga's tag cloud