Wim Wetzel
Biography
As a 100% disabled Viet Nam veteran, Wim is a staunch advocate and fighter for disabled veterans' benefits and rights. He suffers from Posttraumatic Stress Disorder (PTSD) and is a Prostate Cancer survivor. The source and cause of his Prostate Cancer was Agent Orange (AO). During his service in Viet Nam Wim loaded the AO chemicals onto the Ranch Hand spray planes and often became doused by the chemicals during those loading operations. While serving as a mobility specialist throughout Viet Nam his fellow airmen and Wim were often on the receiving end of the Air Force's chemical spraying programs.

His younger brother Roy who served in Viet Nam as a Marine died at the young age of 47 as a direct result of heart conditions attributable to AO. Wim's only son died at the age of 27 as a result of a job-related electrocution. Despite the tragic events described in this book Wim survived and overcame the negative influences that overshadowed his life. He acknowledges freely that every success in his life was achieved because someone reached out to help him when needed. He continues to repay them by reaching out to help others and paying it forward on a daily basis.
Where to find Wim Wetzel online
Books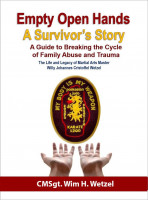 Empty Open Hands A Survivor's Story
by

Wim Wetzel
This is a gut-wrenching story about a Dutch-Indonesian immigrant family that moved to the United States in 1956. The family patriarch was Willy JC Wetzel, a man of many faces and personalities. A man who raised his four children under strict rules of behavior and exceptionalism as a cruel master of his domain within the family home and a master of self-control in public.
Wim Wetzel's tag cloud