Bill Hoover
Biography
Last year, I spent many hours a day writing affirmations. I had affirmations about several areas of self improvement as well as affirmations of faith. I used up many note books. I started reading a book about self esteem, but it dwelled too much on every reason for having low self esteem. I found no remedies for the problem of low self esteem and every reason in the world to have it. It seemed designed to send you to a therapist.

Since I found this book so lacking in what I was looking for, and having time to write, I began writing about self esteem. The city I live in became my laboratory. I observed everbody, what they said and what they did and what was the outcomes and took pages and pages of notes. And I researched. I have studied self improvement books for many years and found great value in some and little value in many. I sought to combine the best of the best for the most direct yet simple method for being a better person. The main obstacle was overlooked by the others. It is the sub-conscious that has to be programmed for improvement. When overlooking it, the best results were only temporary. When I realized the subconscious operated similar to a computer, I realized it was not properly programmed to be in alignment with our conscious goals. By ignoring the subconscious, you are ignoring what is programmed into it. To stay aware of your input and focus on positive input is to succeed. An exact path does not need to be followed for you to be gaining ground on success and reducing your failure rate. Keep faith in yourself and faith in your positive input and proceed at your own pace.

Form your own positive concepts to suit your personal needs. Learn all you can of human nature from the best books you can find. You will have ideas that lead to even better ideas. Write down everything, you'll never be sorry for writing down an idea, a memory or a name.

Your purpose is not what you do to bring home a paycheck. Your purpose is what you were put on earth to do with such intensity and passion that it becomes a spiritual calling.
Blessed are those who strive to make the world a better place for they are the salt of the earth.
Books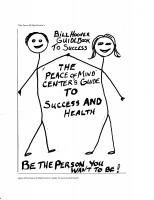 The Peace Of Mind Center's Guide To Success and Health
by

Bill Hoover
The methods of this book help you to program your subconscious to achieve prosperity, greater confidence, reduce stress, greater peace of mind, better health, better relationships, and many more goals. Preview the first few pages to see how simple yet unique these methods are.
Bill Hoover's tag cloud