William Lauer
Biography
William C. Lauer has devoted his entire 38-year career to managing, researching, and informing others about drinking water quality and treatment. He was manager of water quality and treatment plant operation for Denver Water for twelve years. And for ten years he directed the largest research project ever undertaken to determine the health effects of drinking water. This project involved operation of many advanced water treatment processes and included scientific studies on the removal of emerging contaminants.

His extensive experience dealing with customer complaints and investigating water quality issues has provided a perspective unique in this technical field. He is a recognized authority on drinking water quality and treatment, having authored and edited 20 technical books on the subject. He has published more than 50 articles in peer-review journals and spoken at major conferences and professional meetings.

Mr. Lauer has served on national and international water quality and treatment advisory panels such as: Environmental Protection Agency Blue Ribbon Panel on Best Available Treatment Technologies, National Aeronautics and Space Administration (NASA) Health Effects Issues for the International Space Station, the National Academy of Science Health Effects of Recycled Water, and the Government of Singapore Reclaimed Water Expert Panel. His depth and breadth of knowledge on water quality and treatment make him eminently qualified to author this book.
Books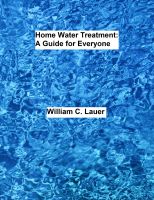 Home Water Treatment: A Guide for Everyone
by

William Lauer
Select the best drinking water treatment system for your home. This book guides you though the selection process so that you can get the best results at the lowest price. The author's decades of experience is evident as he applies his scientific knowledge to reduce the options to only those of primary importance.
William Lauer's tag cloud