William Smith
Biography
William Smith, a Maine native, currently lives in Flagstaff, Arizona, with his wife of 40 years. In addition to writing, Mr. Smith enjoys RVing, Amateur (Ham) Radio, and exploring the Mojave Desert with his 4x4 group. Mr. Smith has been a Christian since accepting Jesus as his Lord and Savior in 2002 and regularly attends worship services. Mr. Smith holds a Bachelor of Science degree in Business Administration from the University of Maine, and a Master of Business Administration degree from the University of Phoenix. The author maintains an alter-ego on Facebook and may be visited at www.facebook.com/misterbillsmith.
Where to find William Smith online
Books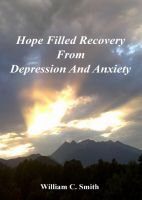 Hope Filled Recovery From Depression And Anxiety
by

William Smith
The author has dealt with the effects of depression and anxiety for many years, but has learned how to overcome, living a virtually depression and anxiety free life today. Through this short, easy to read book, which has sold more than 19,000 copies in 26 countries, you too can learn to overcome the trials and pain of depression and anxiety.
William Smith's tag cloud