William Staats
Biography
I've been writing fiction off and on since junior high. Unfortunately, over the years I never tried publishing the short stories or novels that I have written. Now that I'm past the half century mark, I've decided to corral my fears and publish a short story on Smashwords. What a wonderful service. To my amazement, three months ago I revisited another short story that I wrote in a creative writing class at Grossmont Junior College that the instructor thought was publishable. The story has taken off and I have finished the first draft of a new novel. Hopefully, I will finish it and it will find its way on to Smashwords and not into the filing cabinet with the others. I live in Temecula, California with my wife and two kids.
Books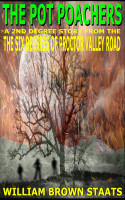 The Pot Poachers
by

William Staats
(5.00 from 1 review)
Kevin, a church missionary worker imprisoned in Sudan for smuggling food and water to a village attacked by a Muslim militia and recently released and recovering from malaria, has returned to his old neighborhood in San Diego to save his childhood best friend, Danny, from becoming a crazy homeless person.
William Staats' tag cloud