Will Ludwigsen
Biography
Will Ludwigsen writes stories like these for magazines including Asimov's Science Fiction, Alfred Hitchcock's Mystery Magazine, Weird Tales, Strange Horizons, and many others. He teaches creative writing at the University of North Florida and lives in Jacksonville with fellow writer Aimee Payne.
Where to buy in print
Books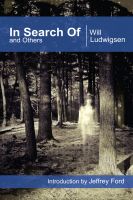 In Search Of and Others
By
Will Ludwigsen
Price:
$6.99 USD.
Words: 45,270. Language: English. Published: February 27, 2013 by
Lethe Press
. Category: Fiction
In Will Ludwigsen's beautiful collection of nine reprinted and six original stories, the universe has a way of being weird in just the ways we need it to be. There are answers to many of our deepest questions…and they're usually far more personal and mysterious than we expect. What are you in search of? And what is in search of you?
Will Ludwigsen's tag cloud