Javier Hume
Biography
I practically grew up playing sports. But fell in love with golf after playing baseball, football, and basketball. Sometimes it was easier to just go chip around the park than run around a football field. I have played golf for twenty years studied the game and played many pro courses. But after seeing many people struggle and not being able to get it right. I dedicated my time to figuring why good coaches could not help a extremely wealthy person that totally loves the game and still can not accomplish the simple basics of how to simply swing and practise normally. I have always enjoyed golf and the great love of the game is always going to be there. The choice is always up the the person if he enjoys playing the game then keep trying to improve and never stop learning and practising. I have always played to improve myself and the fundamentals are going to need to be fine tuned. But people like us achieve perfection only by taking the time to find a way to get the best out of that very day of practice. Not looking towards the next ball but being determined on that two seconds that is going to make the difference in good swing and a bad one.
Books
The End of the Computer World
by

Javier Hume
You set the price!
Words: 9,390.
Language: English.
Published: December 21, 2015
. Categories:
Fiction
»
Fantasy
»
General
The truth about how computer monsters can destroy a society and how modern man destroys itself through computer programs and ideas that are incorrect. Also a book that explains why computers can make things that destroy computer societies from the inside out.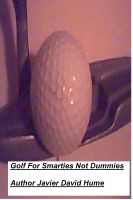 Golf For Smarties Not Dummies
by

Javier Hume
Any body that ever wanted to change the mistakes they are making over the years should study the concepts the try to look at smart golf and enjoy the game again, should read this book.
Javier Hume's tag cloud