Winfred Peppinck
Biography
Winfred Peppinck is a Dutch-born Australian, one of the first of the baby boomers, a former diplomat and Government Advisor. He and his wife Wendy, and their two rescue dogs, currently live in the Kingdom of Bahrain. He is the author of The Diplomatic Dog of Barbados, the WWII novel Not My Country, various travel e-books, a children's book, The Dogs who were Left Behind, and two romantic/erotic novels, High Infidelity, and Sex and Lexie Sherringham.
Books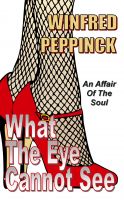 What The Eye Cannot See
by

Winfred Peppinck
'Infidelity' is such a sweet word, for an act of bastardy! Over 90% of women, married and single, regard infidelity as the greatest act of betrayal. But Rory Trembath is not concerned; he knows that if he can seduce the mind first, then the body is sure to follow. The middle-aged Trembath, and Arabella Findlay, meet by chance, soon learning that they share an affinity...
Winfred Peppinck's tag cloud