Win Ko Ko Aung
Biography
Win Ko Ko Aung had his childhood studies in BEPS (1) Latha and BEHS (1) Latha. After the passing matriculation examination he decided to attend Law at the East Yangon University in 2009 and graduated in 2013. Moreover, he has a great passion the field the business and attended some classes concerning to Business Management.
He had also made the strong effort in establishing Yangon Youth Forum 2013 as Media team focal member and ASEAN Youth Forum 2014 as Media team member which shows his achievements towards the voluntary work in the National Field.
Another his volunteering experience is that he was a former Executive Member in America Center Students Council (Yangon, Myanmar) from September 2013 until another election in February 2014.
His job experience is many containing of some freelance part-time jobs in this graduate studies towards LAW and now recent he is apprentice advocate and become a future lawyer. As being a youth, he shows his interest in consulting some startup business to enterprises by working as CEO in Visionary Enterprise.
He is one of the serial Entrepreneur mentor and author in Myanmar, had many experienced in founding companies. Currently, Win Ko Ko Aung is one of the Co-founder of the Visionary Enterprise & Curiosity Science Magazine.
Books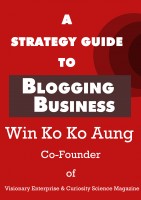 Blogging Business
by

Win Ko Ko Aung
I believe, in this 21st century people are so busy to read. They want to read but the problem is time. Lack of time can't contribute a chance to study new things to people. This book is neither thick nor include clutter words. Only need at most about an hour is completely read the whole of my book. Because I write it simple and easy to understand for everyone.
Win Ko Ko Aung's tag cloud