Dr. Bill
Biography
About the Author

Dr. Bill, a writing pseudonym, has degrees in engineering, math, finance and management. With a Ph.D. in business, Dr. Bill was a full professor at a major public university. During his 29-year tenure, he taught over 15,000 students, from freshmen to doctoral candidates. He is the author of seven college textbooks. During his career he worked at Caterpillar Tractor Company in Peoria, Illinois as an engineering manager, consulted with banks, breweries, food chains, federal government agencies and retail stores. Dr. Bill worked as a faculty fellow at Boeing in its information technologies group. His educational strategy - "Teach people to work smarter, not harder, by combining education, technology and personal satisfaction!"
Books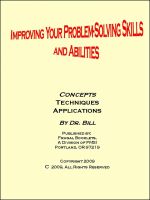 Improving Your Problem-Solving Skills and Abilities
by

Dr. Bill
For 40 years I observed people in various situations in life – school, work, family, health. I am convinced that one critical skill that separates people is their ability to make and implement quality decisions. This book will help people better understand the problem-solving process and to think and analyze before they act. Small improvements result in significant increases in life.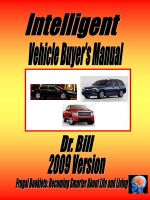 Intelligent Vehicle Buyer's Manual: Version 2009
by

Dr. Bill
This book was written to help the typical car buyer purchase the safest, well-suited vehicle for the buyer and his/her family at the best possible price and terms. We wrote this booklet to help level the informational playing field between today's vehicle buyers and sellers. A typical US vehicle buyer buys one new or used vehicle every four years.
Dr. Bill's tag cloud