Wolf Malkin-Wolf
Biography
I am a writer and author, of fictional stories which are based around, myths legends and folklore. I even bring in fairy tales, in grown up story telling. All my stories are from the myths of werewolves, which i have re-written into other stories and created pathways of tales, linking each. For the creation of the immoral Wer, through history and legends of King Arthur , King John, etc etc. True facts and records brought into each book, giving the reader, that in fact being fictional, could be true.
Where to find Wolf Malkin-Wolf online
Books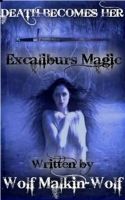 Excaliburs Magic
by

Wolf Malkin-Wolf
Volume Two of Wer Wolf A Wolf's Tale of How We Came To Be.
Wolf Malkin-Wolf's tag cloud