Anna Rose
Biography
Anna Rose, farmer, business woman, mother and sole parent to her four now adult children and now retired lives on the coast in the beautiful and diverse South West of West Australia.

With the time now to seriously pursue her love of writing when she is not doing that she will be found out in her garden or further afield walking on the beach or through the bushland.

Someone who feels strongly about inequality, injustice, our environment and being a voice for animals she has always been vocal on these issues and remains so and her first novel Loves Dream quickly followed by the second Where the Heart Is, available shortly, while love stories both draw on these issues.

Set in the 1950/60's with rural based settings the first in Scotland and the next in Australia they each tell the story of a young woman's journey of growth and self discovery, of romance, conflict and love.
Books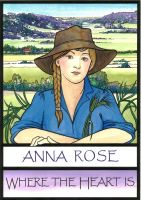 Where the Heart Is
by

Anna Rose
Born at a time when a womans role was to marry & raise children Katy Buchanan whose only wish is to work on her familys farm does not fit this mould but then told by her father a man she adores that there is no place for her there she is devastated. Then she falls in love, becomes pregnant and her life is to change irrevocably and what follows is a story of heart ache, determination and triumph.
Loves Dream
by

Anna Rose
The 1950's and Fiona McLean a beautiful young Scottish woman after a tragic loss makes difficult decision to leave her Scottish home to live in Australia. She loves her new life and David Callahan but is then confronted with having to leave it all to return to be with her father seriously injured in an 'accident'. A story of conflicting loves, an unexpected sexual attraction and hidden dangers.
Anna Rose's tag cloud