Womi
Biography
The Word Mission is a world of mortals and immortals where the truth is
uncovered. Its main mission in the world is to give out the divine message
to the chosen ones. The Word Mission is not a church, organization,
or an occult group; rather, it is a sacred astrally based institution. The
type of philosophy propagated in the Word Mission is expensive. The
philosophy entails all other environmental teachings and is given only
from one source, which has no beginning and no end.
Books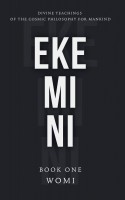 Ekemini
by

Womi
The Word is meant for everyone and is present in every earth community no matter the tribe and race. The Word begat languages, and as the central figure, language is surrounded by numerous dialects. No nation or community needs to import The Word. The Word is the truth and is formless. The truth is formless as well, and it is found only in the original Word.
Womi's tag cloud