Olivia Dromen
Biography
Olivia Dromen has been actively queer since the late eighties, when ze realized at the tender age of possibly-too-young that having hir hand down a girl's pants (in public, on a bus) was quite pleasurable. Other experiments followed. Ze is non-monogamous, kinky, and strangely attracted to awkward queers with cats. (Also, ze is a trans, demigirl, genderqueer, femme—hir pronouns are ze/hir/hirs.) Ze lives in western Massachusetts, where ze enjoys backpacking, drinking coffee, and having lots of sex. Ze writes high fantasy and erotica.
Where to find Olivia Dromen online
Series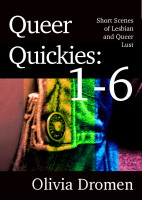 Queer Quickies
by

Olivia Dromen
Kinky, overwhelming, and deliciously hot, the scenes in these books capture the essence of realistic kinky, queer sex without any fluff. These volumes features lesbian, queer, trans, and genderqueer folk doing some of the amazing things they do for fun.
Books
Olivia Dromen's tag cloud