Willy Mathes
Biography
Will Mathes was born and raised in the San Francisco Bay Area during the 60's, and began college at Maharishi International University in Fairfield, Iowa in 1974. There, he received both a bachelor's and a master's degree in education, and met many inspiring, well-traveled souls. At the conclusion of his graduate program, Will spent time (along with many others) studying the Vedas in India with Maharishi Mahesh Yogi. Upon returning to the U.S., he soon set off traveling again, living in Europe for a year, spending the majority of his time in Paris, London and Oxford (with extended jaunts to the Swiss Alps and Greece). Once back in the U.S., his involvement with a variety of Asian import businesses (handmade furniture, art and antiques) brought him out to China, Thailand, Hong Kong and Macau. On various other excursions, Will has spent time in Italy, Egypt and Morocco, as well as a month in Aguilas, Spain, along the Mediterranean coast. He has hiked in many of America's major mountain ranges, and has hitchhiked both across the U.S. and throughout Europe. Currently, he resides with his fiancée on top of Lookout Mountain in northeast Alabama.
Where to find Willy Mathes online
Books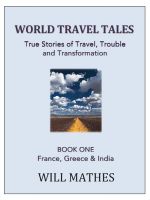 World Travel Tales: True Stories of Travel, Trouble and Transformation - France, Greece and India
by

Willy Mathes
"Strange Angels," the first of two travel stories, is about my adventure-filled odyssey hitchhiking from Oxford to Greece through the French Riviera, meeting unexpected allies and mystical messengers along the way. In the concluding story, "The Delhi Belly Blues," I recount a harrowing, yet ultimately illuminating month in N. India, facing amoebic dysentery and a young, marriage-seeking nurse.
Willy Mathes' tag cloud