Jamie Bismuti
Biography
Jamie Bismuti is a teenage prodigy from Centralia, Wa, who besides being an accomplished author, is also a thespian, recently starring in an off-off-Broadway version of Annie in which all the orphans are chubby and tone-deaf, and an international pop star, having sold more than 57 CDs in Sri Lanka alone.

Jamie generously donates much of her time to volunteer-work and court-ordered community service. Jamie is particulary devoted to those who have suffered blindness due to excessive masturbation – a fate which she herself narrowly avoided.

In her remaining leisure time, she enjoys playing with her kitty "Humper" and responding to daily emails from her father with the phrase "ungrateful bitch" in the subject header.
Books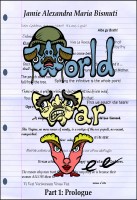 World War Vee
by

Jamie Bismuti
One steamy night, in the throws of passion, a young husband negotiates a non-church-approved sexual favor in exchange for a night out on the town that his young wife will never forget. She reluctantly agrees, but when he reneges on his promise, she is consumed with anger and frustration. In a moment of clarity, perhaps with the help of divine intervention, she decides to fight back.
Jamie Bismuti's tag cloud