Thoren Syndergaard
Ripley of Valor heralds the arrival of an exciting new Young Adult author. It's a huge feast for anyone drawn to the Medieval setting and Quest narrative. Thoren Syndergaard has a passion for the Middle Ages; gender equality; and strong, female, character-driven, coming of age stories. His stories are a little dark, humorous in parts, full of twists and hold-onto-your-seat excitement. Check out his author website for contests and other cool stuff at: https://www.thorensyndergaard.com/

Raised on a diet of Medieval comics, novels, movies, and television shows, Thoren Syndergaard knew, at a young age, that he wanted to share his passion with others. As an elementary school teacher, his favorite Social Studies topic was life during the Medieval era. He would invite authors to the school library for book talks and novel studies, arrange for falconry and weapons experts, visit museums and bus his students to the Medieval Times Dinner and Tournament. He did everything humanly possible to make history come alive in his classroom. His debut novel, Ripley of Valor, is destined to become a best seller.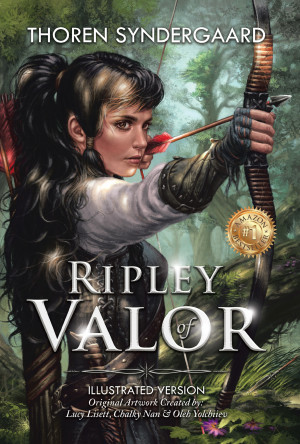 Ripley of Valor: Illustrated Version
by

Thoren Syndergaard
SOME LEGENDS ARE BORN OTHERS ARE MADE FEW ARE BOTH Seventeen-year-old Ripley is the daughter of legendary parents. In a repressive medieval patriarchal society, she unwittingly becomes a lightning rod for change as she strives to fulfill her controversial ambition to become Valor's first female soldier.