WP Gatley
Biography
Wayne Gatley retired after forty years as an educator in Vancouver. He has been chair of the boards of his church and Northwest Baptist Seminary. Hobbies include family, golf, bass guitar, and riding his Sportster.

This is his first foray into fiction writing. In his twenties, he was discipled by the Navigators, leaving him with a lasting curiosity about the life of Timothy, Paul's disciple. In The Apostle's Apprentice, he develops an adventurous story of the young man's early experiences, creating gripping fiction within the context of Biblical fact.
Books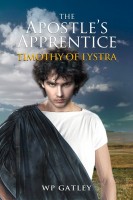 The Apostle's Apprentice
by

WP Gatley
Timothy's peaceful farm life is disrupted by a riot, a miracle and a death. These events force him into a world of violence, a bloody ritual, unrequited love and murder. His determination and faith are tested when the great apostle Paul challenges him to become his apprentice. The Apostle's Apprentice is a story about character. The refining of a life through the crucible of failure.
WP Gatley's tag cloud