WrenSongs
Publisher info
WrenSongs publishes and promotes Irish Language and Irish Authored books. If you are an author or illustrator and have a book to publish in Irish, wish to collaborate with someone on a book, or are interested in translating a book from English to Irish, please contact us at wrensongs_submissions@111george.com.
Where to find WrenSongs online
Books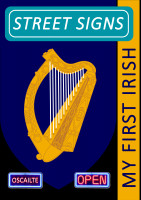 My First Irish : Street Signs
by

WrenSongs
With My First Irish: Street Signs you can take the natural approach to learning the language wherever you are. You will find examples of most road signs within. We recommend reviewing the book for a few minutes each today to solidify your knowledge.
WrenSongs' tag cloud