J.D. Rivera
Biography
J.D. Rivera lives in Oklahoma with her husband and two boys. Her life consists of school projects, homework, cartoon shows, and little league sports. She loves Diet Mountain Dew, the OKC Thunder, costume jewelry, the beach, and reading.
Where to find J.D. Rivera online
Books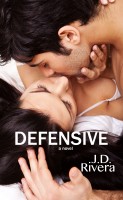 Defensive
by

J.D. Rivera
Vanessa Smith is finally divorced from her ex-husband and is in a committed relationship with basketball star, Jackson Berrios. Someone from Vanessa's past comes back into her life just when she needs a friend but could complicate the relationship between her and Jackson. Will the couple be able to get through their pasts coming back to the surface? Can two different circumstances tear them apart?
Guarded
by

J.D. Rivera
Vanessa Smith has her heart guarded. She's been married to a man that sleeps around and has made her think she's ugly and undeserving. Everything changes when she is knocked down by the famous basketball player, Jackson Berrios. A friendship ensues and everything she thought she knew about men turns out to be wrong.
J.D. Rivera's tag cloud