Mike McGrath
Biography
I live in Florida with my wife, whom I love with all my heart.
I think and write about relationships, the things that connect people to one another, and how everything--work and love and the place in which a person lives and the music a person listens to and even the car they drive--affects them and exerts an influence on those connections.
Frank Sinatra described himself in song as having been "a puppet, a pauper, a pirate, a poet, a pawn, and a king." Well, I've been a son, a brother, a friend, a U.S. Marine, a lover, a father, and an enemy; definitely a puppet, a pauper, and a pawn; possibly a poet of sorts. I'm no king, and that's something I'm not all that sure I'd want to be even if I could.
In any case, I'll keep working.
I hope you enjoy my stories.
Books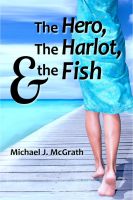 The Hero, the Harlot, and the Fish
by

Mike McGrath
A story of life, love, and loss under the warm, summer sun of Fort Lauderdale, the yachting capital of the world. The beach is a place of betweens--the border between the warm ocean and home, between work and play, between what we do in the sunlight and what goes on after dark. Things can get lost on the beach, too. 'Surprising how easy it is to leave something behind in the sand at day's end.
Mike McGrath's tag cloud