Oren Or Bittoun
Biography
Oren Or Bittoun, 46, married with four children, is a former IDF counter-terrorist operative who operated in the West Bank during Israel's First Intifada. He has written a chillingly revealing book on his personal battle with Post Traumatic Stress Disorder resulting from the harrowing events he experienced during his military service. Unaware of the disorder, which was unrecognized by the military at the time, he continued living his life with constant flashbacks and nightmares that severely impacted his life, until finally seeking professional help 16 years later. All the while he continued to pursue his career as a top hairstylist, working in London and Paris, while combining extreme sport to relieve his anxieties. Today he continues to run his hair styling salon in Hertzliya while dedicating the rest of his time to raising awareness to PTSD, and helping other army vets seek professional help. Oren recently founded the Trauma4good Association chaired by former Mossad chief, Danny Yatom and tours the world giving talks on his personal victory in fighting PTSD. He has made it his life's mission to reach out to army vets worldwide in the hope of helping them resume a normal life and preventing the next PTSD related suicide, which stands at a staggering figure of 30 vets a day in the US alone.
Where to find Oren Or Bittoun online
Books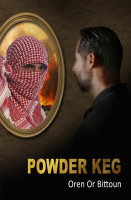 Powder Keg
by

Oren Or Bittoun
It took 16 years of escaping his problems for Oren Or Bittoun, a former commander of the IDF's Border Police undercover counter-terrorism unit, to get a proper diagnosis of what he was suffering from. Bittoun was one of the first soldiers in the unit, taking part in dozens of classified operations in the West Bank during Israel's First Intifada, a time when PTSD was yet to be recognized.
Oren Or Bittoun's tag cloud