Donna J. Heatherly
Biography
I am an optimistic cynic who sees the good in others while acknowledging their ulterior motives. I am a woman who is sustained by the simplicity of life as well as recognizing the darker side of humanity. I am revived by encircling myself with family and friends. I appreciate the small moments of every day life, be they happy or poignant. My personal challenge is the hope of gaining insight into myself, my hopes and desires, as well as sharing my thoughts with others. In the past, I have written medical content for BrightHub. My short stories and essays have been published in the local newspaper and online at BoomerWomenSpeak and Friendly Korea. Hobbies include absorbing the written word, tap dancing, RVing across the country, scavenging shores for seashells, hiking, or meandering the woods. I savor the moments I can share nature with my grandsons since they are the ones who nourish my soul.
Where to find Donna J. Heatherly online
Books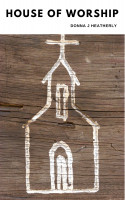 House Of Worship
by

Donna J. Heatherly
A very brief story about a young boy Ricky. This snippet gives a glimpse into how a psyche becomes scarred and hints as to why he grew into a narcissist.
Donna J. Heatherly's tag cloud