Steven L. Shrewsbury
Biography
Award winning author STEVEN L. SHREWSBURY lives and works in Central Illinois. He writes hardcore sword & sorcery and horror novels. Over a dozen of his novels have been published, including Born of Swords, Within, Overkill, Philistine, Hell Billy, Thrall, Blood & Steel, Stronger Than Death, Hawg, Tormentor and Godforsaken. He has collaborated with Brian Keene on the two works King of the Basatrds and Throne of the Bastards. His fantasy epic with Peter Welmerink Bedlam Unleashed has just been released. More of his weird horror westerns are on the way.
A big fan of books, history, guns, the occult and sports, he tries to seek out brightness in the world, wherever it may hide.
Books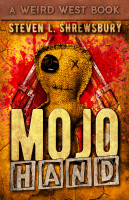 Mojo Hand (The Joel Stuart Adventures Book 3)
by

Steven L. Shrewsbury
Joel finds himself at odds with dire magical forces. He runs headfirst into an army of the undead, a demon guard, the persona of African god, Damballah, and even finds himself beneath the lid of a coffin. Mojo Hand is a novel of action, dark humor, heroism and horror, and shows what a simple man will do for revenge and to sleep well at night.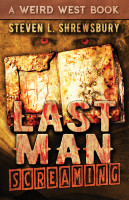 Last Man Screaming (The Joel Stuart Adventures Book 2)
by

Steven L. Shrewsbury
A tale of action, courage and terror, LAST MAN SCREAMING will appeal of readers of Lovecraftian lore, tough westerns and horror. It teaches that survival isn't always pretty.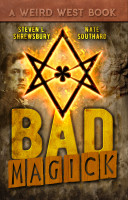 Bad Magick
by

Steven L. Shrewsbury

&

Nate Southard
Aleister Crowley, Rasputin and our hero Joel Stuart are thrown into an orgy of bloodshed and sacrifice. Ultimately, Crowley and his new companions must band with the Jesuits for a stand between mankind and an oblivion wrought by the cannibal Elder Gods. A tale of action, horror and zeal, BAD MAGICK reaches into the depths of the soul to see how what one will do to survive.
Steven L. Shrewsbury's tag cloud