Warren X. Ison
Biography
Warren X. Ison was a true Renaissance man, a scholar, teacher, B-24 mechanic, rail-fan, hitch-hiker, husband, and my father. He was the son of a teacher from South Dakota and a Bavarian-born steam engineer and Union man. An Ohio boy, he grew up during the Great Depression, went to college, and then to war. After the War, he continued his education, finishing a Masters in History at Bowling Green of Ohio. His calling was as an educator – he taught in small rural schools across Michigan, including the newly formed Maple Valley district in Nashville and Vermontville, Michigan where he was the first librarian.

He married my mother, Mary Allen, a good Mormon girl from Utah (and that is a story in itself). He remarried after Mary's death, to Ferceyna Easterlin – who he picked up in the Graduate Library of the University of Michigan. They were in a Reference class together and they both wanted a smart person in their lives. She was the sort of woman who could understand someone deciding to hitch-hike to Alaska and ride trains for fun. And she didn't mind an instant daughter.

This book, and several others, are products of my father's imagination. He wrote this book in the 1960's – while I was in high school, so in some ways I grew up with Hila and Beta and the others. He wrote – and re-wrote – and edited – this book on a typewriter – which meant multiple copies, lots of paper, and a good deal of frustration, but ending in a manuscript that he sent out to publishers. My father never did find a publisher, but here we are, 50 years later, and this is my chance to share the world my father's imagination created. I hope you've enjoyed it.

Janet Rice
Round Rock, Texas
2015
Books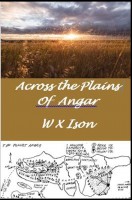 Across the Plains of Angar
by

Warren X. Ison
Stranded on the planet Angar and rescued from captivity in the Hotmo Empire (the story told in Across the Seas of Angar) Major John Hocta, has found his place in the society of his new home as an officer in the military. Now he leads the Seventh Mobile Unit, patrolling the eastern boundaries of the Tonkan Republic. Cut off and surrounded he must bring his men home across the plains of Angar.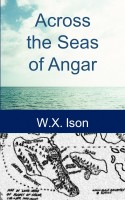 Across the Seas of Angar
by

Warren X. Ison
The God Kala has sent messengers to the Hotmo Empire to perform miracles and proclaim His glory. Who are these messengers, and what does this mean for Republic of Siva-Tonka, founded on the rejection of belief in a cruel god? Hila Moga of Military Intelligence must lead a team of agents across the seas of the world of Angar to find the Messengers and neutralize them, by any means necessary.
Warren X. Ison's tag cloud