Lee W Brainard
Biography
Lee has been teaching the Bible for over 35 years. He and his wife live in Harvey, ND where he preaches twice a month at Harvey Gospel Chapel. They have four children --- three of whom are married --- and ten grandchildren.

His areas of interest include the Bible languages, Bible prophecy, apologetics, ancient history, catastrophism, and electric universe cosmology.

His hobbies, which he rarely finds time for, are backpacking and mountain climbing. He finds enjoyment in the simple pleasures of life --- conversation with friends, coffee, dark chocolate, mountains, the bugle of a bull elk, the call of the loon, the smell of lilacs in the spring, sunrises and sunsets, and northern lights.
Books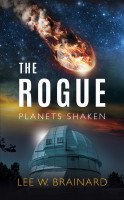 The Rogue
by

Lee W Brainard
(5.00)
The core of the planet that once orbited between Mars and Jupiter has returned as a comet and threatens Earth. The rookie astronomer that makes the discovery finds herself silenced by NASA and bucking a massive cover-up. When she sends the evidence to a friend, she winds up in a FEMA camp and two other astronomers are forced to go on the run. Volume one of a four volume series.
Lee W Brainard's tag cloud