Wyn Hughes
Biography
Wyn Hughes was born and raised in North Wales before attending Emanuel School in London. Following seven years with British Telecom, he joined Intel in Wiltshire where he lived for twenty years. He has two children and two step children. Wyn moved to Florida with his wife Jan to operate their boat charter business, extensively sailing in the Gulf of Mexico and the Florida Keys. Returning to Britain, he now lives in Torquay on the English Riviera, and continues to sail England's South Coast. Pilgrim's River is his first novel and he is already writing the sequel.
Where to find Wyn Hughes online
Books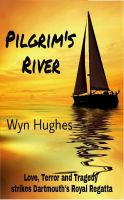 Pilgrim's River
Love, Terror and Tragedy strikes Dartmouth's Royal Regatta week. A body is caught up in the propeller of a sailing yacht returning to The River Dart. Events which follow bring love and tragedy in equal measure, as a young woman journalist gets caught up in acts of terror affecting two of the wealthy family estates on either bank of the river.
Wyn Hughes's tag cloud