Yehuda Israely
Biography
Yehuda Israely and Dor Raveh are co-authors of "Mesopotamia - The Healer, the Slave and the Prinec", a historical tale taking place at ancient Sumer, and "Mesopotamia - The Redeemer" a Sci-fi novel of psychological wareface between future post-apocalyptic civilizations. Both books came out as one book in Hebrew under the name "Mesopotamia - Silence of the Stars" and won the "Gefen award" for best Sci-fi and fantasy novel for 2010. Yehuda Israely is also a Clinical Psychologist and Psychoanalyst, practicing and teaching in Israel. Previous non-fiction book: "The Philosophy and Psychoanalysis of Jacques Lacan" was published in Hebrew by IDF publishing, following a radio program. His third book "Craft of the treatment – a Lacanian Orientation" will come out in September 2013. Dor Raveh is Intelligence and Risk Management Director at a private international security firm.
Where to find Yehuda Israely online
Books
Mesopotamia - The Redeemer
(5.00)
"Mesopotamia - The Redeemer" is a futuristic story of psychological warfare between three civilizations: the harmonious Pythagorians, the suicidal Gnostics and the passionate Socratians. Can the socratian healer of the soul save the galaxy? Can the master of the Pythagorian space station be compassionate to the misery of the outcasts? Can the Gnostic warrior find a reason to cling to life?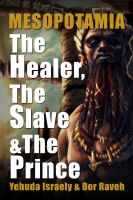 Mesopotamia - The Healer, the Slave and the Prince
(5.00)
The healer and his apprentice slave of 3000 BC live in an old and sweet Shechrezada-like legend. Their lives hang by a thread as they struggle to exorcise a demon out of the possessed Sumerian prince's body.The craft of healing helps them navigate the murky waters of the courts of the kings of Uruk and the gods of the underworld, and influence the fate of the prince, the deamon, and themselves.
Yehuda Israely's tag cloud