Luciano Nisi
Biography
Luciano Nisi immigrated from Italy to Canada as a young child. His passion for writing this book came about because of a desire to share his experiences as a Paramedic. His interest in being a medic dates to his full-time service with the Canadian Military. For six years he served as an Airborne Medic parachuting from aircraft with his medical bag, assault rifle and rucksack, taking care of the soldiers, he served with. He is also the author of Crossing the Line: How to Cross a land border Stress Free, and Trail Ready: How to Pack and Prepare for Hiking Emergencies. He is currently writing his fourth book: a memoir of his life as a soldier. When he is not writing, he enjoys flying airplanes, photography, and hiking in the backcountry. He currently lives in Abbotsford, BC.
Books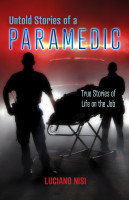 Untold Stories of a Paramedic: True Stories of Life on the Job
by

Luciano Nisi
When you see an ambulance speeding by, lights and sirens wailing, have you ever wondered what is happening inside? Have you ever wondered what challenges paramedics face daily? What type of calls they deal with? Well, now you will find out. Luciano Nisi has been a paramedic for over 15 years, working in both rural, and downtown, urban areas.
Luciano Nisi's tag cloud