Yvette Stupart
Biography
Dr. Yvette Stupart is an educator, clinical counselor and writer. She graduated from the Caribbean Graduate School of Theology with a Masters in Counseling Psychology, and holds a PhD in Counselor Education and Supervision from Regent University.

She is the Founder/Clinical Counselor of TEAM for Change Counseling Services, and is a lecturer at the Caribbean Graduate School of Theology.

Yvette is the Coordinator for the Prayer Ministry at her local church. Her philosophy on life is embedded in the belief that God loves us, has a good plan for each of our lives, and has appointed and gifted us for his purpose (Jeremiah 1:5; 29:11). Thus her passion is to empower people to achieve their life's purpose.
Books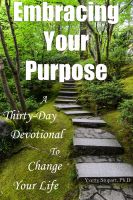 Embracing Your Purpose: A Thirty-Day Devotional to Change Your Life
by

Yvette Stupart
Our heavenly Father wants us to recognize how important it is to know, walk in, and embrace his plans for our lives. In this new and exciting series of devotions, we will explore various aspects of what it means to embrace God's purpose. This will empower you to walk daily with a strong commitment to achieve God's purpose for your life.
Yvette Stupart's tag cloud