Yvonne Morrin
Biography
While a teenager, Yvonne Morrin was briefly a goth, before embracing her inner dweeb. Now very well into her adult years, Yvonne is still trying to decide what she wants to be. So far, she has been a nuclear physicist, a meteorologist, a school teacher, a swing dance instructor, a zookeeper and a children's book author. Her kids' books are published under her maiden name of Morrison.
Where to find Yvonne Morrin online
Books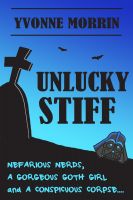 Unlucky Stiff
by

Yvonne Morrin
Sam Shore is finally beginning to make a success of his life. Out celebrating, he makes a fatal mistake – and later that night dies, struck on the head by a potted plant. Eighteen hours later, Sam recovers – only to be shot dead by a mugger. As death continues to haunt him, Sam becomes increasingly confused by his situation. And then two desirable women appear on the scene...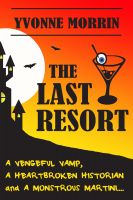 The Last Resort
by

Yvonne Morrin
Chased from an Austrian cliff-top castle by an angry mob armed with pitchforks and torches – where can a zombie run to for safety? Hunted down by a headmaster with a silver-bullet-loaded rifle – what's a boarding school matron-turned werewolf to do? Weary of jumping out from behind pyramids, half-heartedly cursing tourists – how's an ancient mummy to fill his time?
Yvonne Morrin's tag cloud