Mansi Sheth
Biography
I belong to a middle class Indian family and used to teach in an English medium school. One day my husband told me that he is getting transfer to his company's US office in Texas. We were happy to see the United State. After two weeks we landed in Dallas and a new chapter got added in my life. During my stay of about 16 months in USA, I have visited so many places and have made number of friends. But one thing that I used to regret is my job. I had to leave my job to accompany my husband. To overcome this regret one day my husband gave me an idea to write a book. I used to write my personal diary and my husband and I used to read it together. We used to enjoy reading that, but I have never tried writing a book. So initial I wasn't confident but Zankar (my husband) convenience me that it is worth to try. When I started, I never thought to be a professional but over the period of time I started liking it. I started paying attention to minor details, my scale of imagination got expanded and I improved my style of storytelling. Today now after couple of proof readings and reviews I feel confident that my readers will like my work and it will give them what they normally look for in any good mystery/suspense/romantic thriller book.
Books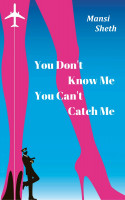 You Don't Know Me You Can't Catch Me
by

Mansi Sheth
(4.83)
Read what happens when Christina an ambitious, smart, bold and sexy FBI agent takes the case of Ghost, an international criminal who never got caught after successful robberies in four different countries. Whether she will be able to trap the Ghost in the snare of her sexy and irresistible personality or the Ghost will be able to manipulate and use her for another crime in the city of Miami.
Mansi Sheth's tag cloud