Zackquill Atha
Biography
A great deal of mystery surrounds Zackquill Atha, and he seems to prefer it that way. While he vehemently denies being on the run from the Mafia, the CIA, and an unruly mob of mutant squirrels, the fact remains that no one has been unable to uncover his true past, or even come up with a clear photograph of him. Only one thing is certain: Zackquill is known to spend most of his time hiding in isolated spots writing books for young readers.
Where to find Zackquill Atha online
Books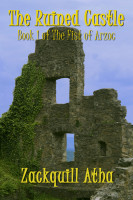 The Ruined Castle
by

Zackquill Atha
When 12-year-old Roger is magically launched into another world, he lands on the front lines of battle as monstrous creatures invade a peaceful kingdom. With the aid of a pair of newfound friends, he must run for his life, spread the warning of the imminent attack, and search for clues on how he got there, and how to get home.
Zackquill Atha's tag cloud