Zayd Bell
Biography
I was born on December 14, 1984, in Sarasota, Florida. I've always had a love for the art of literature and art, itself. Growing up, I took a greater liking to it and began putting words together, finding that I may have a gift. I have excelled in certain oratorical contests, in which I chose to write my own orations; as opposed to others, who'd gone to writers for their works. As a result, people began requesting more and more of my literary works. It was then that I began to realize I did, indeed, have a gift. In my high school years, I began to couple it with my developing teenage mind, and that's when the eroticism kicked in. I started writing personal stories in my notebooks, and then I began to share them with friends. My works, again, became likeable. It had gotten to a point where I was writing short stories and sharing them on social networking websites, which drew a lot of attention and encouragement. I was pushed to take it further and to see if the world would agree with my close friends and family. I decided to become an author. I am still growing and learning as a self-taught author and, one day, hope to produce stellar works.
Where to find Zayd Bell online
Books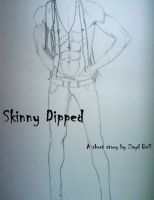 Skinny Dipped (An Erotic Short Story)
by

Zayd Bell
When Vincent, a retail clerk, breaks the ice with his long-time crush, Skinny, sparks fly. Skinny is very blunt when it comes to being sexual; whether talking about it or acting it out. This, coupled with his sex appeal, makes it difficult for Vincent to resist. He couldn't even resist, if he tried.
Zayd Bell's tag cloud