Zen Williston
Biography
Dr. Glenn (Zen) Williston was raised in a tiny fishing village on the Atlantic Ocean in Rhode Island, USA. He earned a Bachelors Degree, two Master's Degrees (one in psychology), and a Doctorate in Psychology. Dr. Williston also holds advanced certifications and licenses as a Master Hypnotist and Hypnotherapist. Available in 12 languages around the world, Discovering Your Past Lives was an instant success when first published in paperback and continues to be a sought-after title in the secondary, used book marketplace, commanding very high prices. Book critics were wildly enthusiastic about the book, calling it the best scientifically based book on past lives ever published. Dr. Williston has appeared on interview radio shows in the UK and the U.S. and on television shows in several countries. Articles about him have appeared in newspapers in Norway, the UK, India, and the U.S. Discovering Your Past Lives is required reading for psychology majors at a number of universities and colleges around the world. Dr. Williston currently resides in Nevada.
Where to buy in print
Books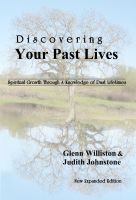 Discovering Your Past Lives
by

Zen Williston
You only live once... or do you? Within each of us reside the events and memories of many former lifetimes and this stored knowledge of past lives contributes to and affects our present choices and decisions. This book shows how past-life regression therapy guides subjects to relive past-life incarnations and re-experience these formative primal events. Many examples are revealed.
Zen Williston's tag cloud