Shaun Hick
Biography
Shaun was born in New Zealand, but having lived there all of three months set off to see the world. From the US to Pakistan, Fiji to Papua New Guinea, the first five years of his life were spent in environments rich in exotic cultures, incredible scenery and interesting creatures. Eventually Shaun settled in Central Queensland, Australia which is still his sentimental home. His love for storytelling came at a young age, born out of an active imagination and the harvesting of mental images grown from the seeds of Enid Blyton's Adventure Series, Michael Ende's two classics and Tove Jannson's wonderful Moomins, among others. His love for crocodiles comes from staring into the murky waters of the Fitzroy river and other waterways of Central/Northern Queensland and imagining a monster the other side of that murk staring back. His love for all animals – tiny or huge, nuisance or pet – comes from being human. In 2011 Shaun was diagnosed with stage three colon cancer. He is currently in remission and regards his cancer as a gift, as it's enabled him to spend time with his young family and return to storytelling.
Where to find Shaun Hick online
Books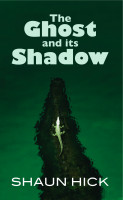 The Ghost And Its Shadow
by

Shaun Hick
FORBIDDEN TO YOU, IS THE FLESH OF MAN. A child is taken from the banks of a river in the Northern regions of Australia. Her killer could be any of a number of large Wyrms in the area. Each of these monsters has its own story and a date with an unlikely trio determined to make them repent for their transgressions.
Shaun Hick's tag cloud