Paul Currant
Biography
Paul Currant has been writing for most of his life - shopping lists, complaint letters, that sort of thing. But has also written plays and books and 'You're an alien, Minty Beeswax!' is definitely one of those last ones. He has lived in England, the USA, France, and Mauritius either being a student or working with students and is very happy he never has to take any exams ever again. Now please leave him alone, he's trying to write something.
Books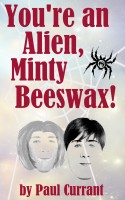 You're an Alien, Minty Beeswax!
by

Paul Currant
'Zambombom!' said Minty, and from where he's from (planet Verteld) that's REALLY rude. But you can't blame him, a young alien disguised as a 12 year old Earth boy and sent on a deadly dangerous mission to Earth. It's totally confusing and he even has to go to school! And now he's discovered he's being hunted! And he even has another enormous problem that he knows nothing about . . . Zambombom!
Paul Currant's tag cloud